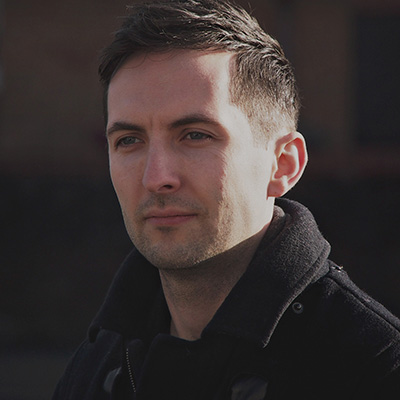 ARTIST
Richard Pryn
リチャード・プリン。1983年生まれ。これまでにロイズTSB銀行、イケア、ノキアなど数多くのCM楽曲を担当する。
「キャプテン・アメリカ」、「Civil War」、「素晴らしきかな、人生」、「エージェント・ライアン」、「メン・イン・ブラック3」「ビザンチウム」など数々のハリウッド映画の予告編作曲家として活動。リチャードの活躍は映画だけではなく、英国ホラー「Truth or Dare」ではダークな響きの作曲、また「天空の蜂」においては壮大なオーケストラ音楽を担当。更にジュリエット・スティーヴンソン主演の「Quietus」ではポップな音楽を展開するなど幅の広い作曲家として活躍する。リチャードの曲は「UFC」,「Got to Dance」、「Catfish」を通じて世界中に広く知られている。
また、CMなどにおいても、「Google」,「IBM」,「メルセデス・ベンツ」「クライスラー」、「ユニリーバ」など30企業を超えるインターナショナルなクライアントのトラックの制作を行っており、常にクライアントに対して最高品質な音楽を届けている。
ロンドンオリンピックの際にはEnglish Session Orchestra率いるロイズTSB銀行と共同し、モーガン・フリーマンとベネディクト・カンバーバッチがホストを務める国際スポーツ賞「Laureus」の楽曲を担当するなど様々なステージで活躍する。
Richard Pryn has composed music for Hollywood film trailers, including Captain America: Civil War, Collateral Beauty, Jack Ryan: Shadow Recruit,Men in Black III, and Byzantium, and often called upon to write epic, heart-wrenching, electro-symphonic cues.
Richard's work in films has covered among others; dark, gritty soundscapes for British horror Truth or Dare, epic hybrid orchestral music for Japanese blockbuster Tenku No Hachi, and uplifting pop for dramatic short Quietus (starring Juliette Stevenson). Richard's tracks have been licensed around the world for TV shows including UFC, Got to Dance, and Catfish.
Richard is renowned for his ability to produce the highest quality music to brief making good use of his classical and contemporary training. Having written music for over 30 international clients including Google, IBM, Mercedes-Benz, Chrysler and Unilever he is no stranger to working on large-scale projects where he composes, produces and delivers the finest quality music to his clients.
For the London Olympics, Richard was asked to produce the new track for Lloyds TSB with the English Session Orchestra at Angel studios, and for the second year running he has supplied the music and sound for International sports awards, Laureus (hosted by Morgan Freeman and Benedict Cumberbatch).
Collateral Beauty – 0:10-0:42
Sully: Miracle on the Hudson – 0:30-1:00
My Beautiful Broken Brain – 1:03-2:05
Captain America: Civil War – TV Spot
PAST WORKS:
【公式WEBサイト】